What


People Say
"Peter Vodenka is the kind of immigrant this country was founded on … searching for a place to live his dreams with freedom from oppression.
Now he gives back to this country and makes our country a better place by the citizen he is.
I hope he will always speak in front of groups…. He should be on television, broadcasting his message. This country needs his message as much as he needs the freedom it gave him!"
Tanya M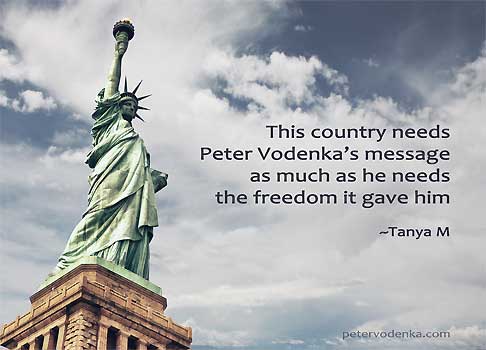 About the Speech
"Powerful presentation! Peter motivates the audience with his ability to express his lifelong commitment and desires to succeed! He captivates the audience with the challenges his family has overcome to live the American dream. Looking forward to reading his book."
Darrell Schrader
President: The 1902 Cowboys
"Thank you for speaking to my class today. You were very inspirational and I feel renewed. I know I take my freedoms for granted and you opened my eyes. It is nice to know that anything is possible in America!"
Katie C
"Thank you again for speaking at our school. The conversations that followed were tremendous. AP history was dynamic because they are currently studying the Cold War…. We feel so fortunate that you were here to share your amazing Journey to Freedom."
John W
Powerful and engaging speaker
"Peter Vodenka is a powerful and engaging speaker on a variety of subjects, but without equal when he speaks of the fascinating escape from communist Czechoslovakia he engineered for his family. I have known him since shortly after his defection and consider him a superb combination of the best characteristics of both his Czech homeland and his adopted America."
Ray Cowdery
Author of Reinhard Heydrich Assassination

"I wanted to say thank you for the wonderful presentation at our rotary club today. I got a lot of very positive feedback!"
Sheila M
"Thank you for speaking at our school today! If I would have known how fascinating your story was, I would have given you two hours to speak!"
Kathy C
"Phenomenal presentation! This story needs to be heard by all, especially in our school systems. Keep spreading the word."
Amy C
Inspired our determination to ensure those freedoms endure
"My husband and I had the privilege of visiting and becoming friends with Peter and Lilly. Hearing their amazing story has given us a greater appreciation for the freedom we had taken for granted, and inspired our determination to ensure those freedoms endure for our children, grandchildren, and all generations to follow. I look forward to the publication of Peter's book; it should serve to inspire many others."
Debbie K
"What an amazing story which needs to be heard … especially by the younger generation who doesn't remember the Iron Curtain or the Cold War."
Dawn
"What a patriotic & motivational experience! A great way to end our conference! Thank you for reminding me how great it is to be an American!"
Nancy V
"Thank you for speaking to our Veteran's group. We had a lot of compliments. You gave us much to think about. Your story is so interesting, we were all on the edge of our seats!"
Sue V
"Kept me on the edge of my seat the entire time!!! Inspirational! Bravo!"
Nancy R
"I could listen to you speak for hours! Very informative and powerful presentation."
Angie K
"Peter's speech really helps me appreciate the freedoms I enjoy in America."
Jennifer M
About the Book
"Peter has been a friend for over 20 years. He is a phenomenal speaker and business owner. He has written a fantastic book about his defection and my hope is that he will now write his biography so that it can be enjoyed by all!"
Brad Bainey
President: The Bainey Group Inc
"Peter Vodenka gives you the opportunity to be right there in the action to experience what he and his family did. You will find yourself talking to the family, cheering them on, and wanting to get rid of the evildoers.
You think you have problems? Think again!"
Carol H
"I wanted to say that I was inspired and enjoyed your story immensely. I already shared it with one person and I intend to share it with others. I hope you know that your story can make a difference and I hope you keep pursuing that. Reading your story gave me an even larger appreciation for traveling and learning about the cultures that make up this earth."
Alisyn S
Very suspenseful!
"I felt compelled to email you as I very much enjoyed your book. I actually couldn't put it down and it was one of those kind of books where you want to keep reading but have to go to sleep because of work the next day. The story of what you and your family went through was scary! I also lent the book to a colleague at work. She said the same thing. Very suspenseful!"
Barb P

"It's a story of courage, determination, and a willingness to risk everything for freedom. Inspiring and compelling."
Al Horner
Author of the books,
Get a Grip and Not Me
"I really, really enjoyed your book. It had all my favorite elements of a good read: a biography, history, excitement, a good story line, and easy to read. I felt it was a great page turner & I enjoyed learning your story."
Amy K
"If, unlike me, you actually learned about the Cold War and Communism in school, you might not find this book so fascinating. However, for anyone between, say, 13 and 35? This should be required reading. Not only is the author's personal story incredible, but he explains the history of the era in an engaging, approachable way."
Amanda O